Ciao, we are Hans and Desiree Grijpma from the Netherlands and we have recently started our Italian dream in Umbria. We have bought this hidden gem, an old farmhouse from 1910 in Montegabbione, near Perugia, Orvieto and the Trasimeno lake. And a stone throw away from Tuscany. It has the greatest view you can imagine on our olive trees and our little vineyard. On the horizon you can spot the Castel di fiori. Villa Montegabbione is in the middle of nature, all you can hear are the birds, but still the village is next door on walking distance.
As a child Hans visited Italy (Porlezza) with his family every year. Later, he continued traveling to Italy with Desiree and together they discovered many beautiful regions in the country. We both share a passion for good food, wines, nature and history. Desiree is a image stylist and shoe addict so every year piles of shoes were imported by her from Italy.
Together with one of her best friends Desiree visited Umbria several times to do cooking classes and learning Italian. Then she discovered that Umbria is one of the most beautiful areas in Italy. It has the same landscape and historic towns as in Tuscany but without the big crowds. The food and wine are excellent and the people are warm, welcoming and helpful.
So when the plan came up to buy a house in Italy it was not difficult to choose the region, Umbria it had to be.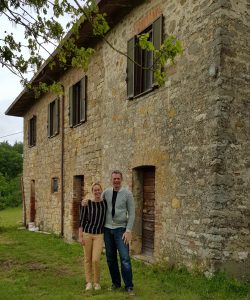 Luxury holiday apartment
We are planning to host guests in a luxury apartment for up to 6 guests. We are now in the process of planning the construction work. Follow us in our blog or on facebook to see how our dream is developing and to know when the apartment is ready for you.
Experiences
We are planning to organise a number of experiences for our guests. As a image stylist Desiree will organise colour and style workshops. We are in wine country with very good white and red wines so we are planning to organise wine tastings and wine tours to the wineries surrounding us. Also a guided visit to Perugia or Orvieto will be a possibility.